Welcome to the Laford's
Growing up and living in rural New England has it's benefits; and personnally I'd rather live in an area away from the problems of urban America and deal with life in the town of Petersham located in Central Massachusetts. If you're interested, take a look around and see whose page this is and some of our interests.
This is Bob and Diona and we've been married since 1993. Diona works at Berry Engineering in Petersham as a secretary and Bob is Campus Safety Officer at the University of Massachusetts in Amherst.
Prior to going to UMass, Bob was Captain with the Orange Fire Department for thirteen years and also served as a Fire Science instructor at Mt. Wachusett Community College and also an instructor with the Massachusetts Firefighting Academy. Bob is also Deputy Fire Chief with the Petersham Fire Department and is in charge of training with them. Bob has written a number of articles that have appeared in a variety of different publications and has also written a text on Community Emergency Preparedness Planning through Responder Publications.
We're members of the Red Knights Motorcycle Club and love to ride our motorcycle. The Red Knights are made up of firefighters and their families who enjoy motorcycling.
We live in Petersham, MA...just a little town but a nice quiet place to live.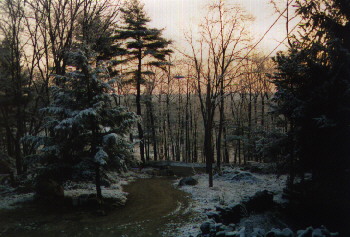 This is the view out our front door
If you'd like to look around and see our home...in different seasons during the year...just ask!


73's from KA1DWM

Looking for Call Sign Info?

Need more info on Ham Radio...just ask the A.R.R.L.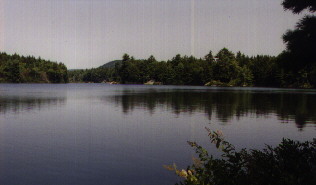 Pisgah Mountain
This is one of my "favorite places." It's Pisgah Mountain in New Hampshire. My grand father once had a camp here. The "running water" was a well and pump down one path...and the bathroom was an outhouse down another path. All the property is now owned by the State of New Hampshire and constitutes the largest sate park in New Hampshire. A beautiful place.
Diona and I enjoy camping and the outdoors. (Although we're soft and take a camper with us!) There's lots of information available through the Web on Camping if you're looking for stuff. The Good Sams Club is a great place to look for camping links.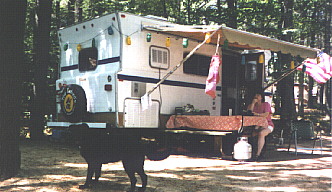 Knights of Columbus
Fire Prevention Education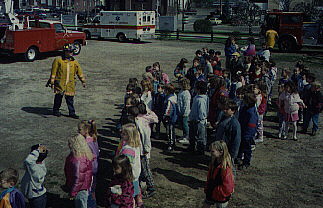 When I was with the Orange Fire Department I was very much involved with fire prevention and safety education. I feel it's important to teach our children basic skills in personal safety to give them some tools to work with as they develope into adults.
The Orange Fire Department is one of the National Fire Protection Association's Champion Awards Receipients for 1996.

The N.F.P.A. recognizes "saves" in communities that use their Learn Not to Burn Program. An LNTB Save is when a student uses the information that was taught through the program to do something that actually saves a life. Orange was fortunate enough to experience this proof that Fire safety education really works when a student and his family had prepared and practiced a home escape plan that was put to use when they had a fire in their home.

---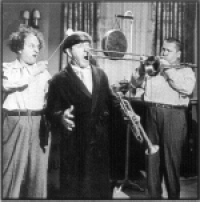 There is musical genius in all of us!
The Petersham Brass Band
The Trombone Home Page

John Philip Sousa Home Page

Back to Bob's place
---
This page maintained by Bob Laford
Petersham, MA
rflaford@tiac.net