Fire Safety should be everyone's priority!
Statistics tell us that in the course of everyone's lifetime they will need to call the fire department for help twice. So fire prevention and fire safety is an important concept for everyone!
Have you checked your smoke detector lately?

---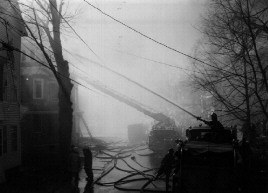 In the United States nearly all fires and fire injuries and deaths are caused because of human error. The fire service and fire departments around the country can have all sorts of fire safety and fire prevention programs in place -- but if everyone doesn't do their common sense part to help eliminate those fires -- the programs can't work.

Take some time to see how you can make your home more fire safe through recommendations of the U.S. Fire Administration.
Let's work together to reduce the number of fires in America. Maybe next year those 4,000 to 5,000 civilian fire deaths, and 100 firefighter deaths will be past history and not statistics.
Remember that even though we have different levels of emergency services available to us; it's our personal responsibility to take care of ourselves as best we can. The American Heart Association has some tips to consider to keep a healthy and active lifestyle. Learn C.P.R. Today, the life you save may be someone you love.

I am a Deputy Chief with Petersham Fire Department. I was also a career firefighter for thirteen years with the Orange (Mass.) Fire Department. I left that department in 1998 as Captain in charge of training.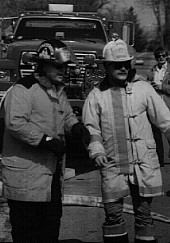 Myself and Petersham Chief Robinson
at a fire on South Main Street several years ago

Check out some custom helmet fronts.
Firefighters seem to work some of the oddest hours that anyone can work. This can hamper anyone trying to attend college. I was able to finish my Bachelor's degree through a program that the National Fire Academy has with a number of colleges throughout the country. If you're looking for a way to further your education but you cannot take many conventional college classes you should look into the Open Learning Fire Science Program (Now called Distance Learning).. My degree, in Fire and Safety Engineering, was awarded frm the University of Cincinnati


Other Fire Department Links

Central Radio System (CRS) Home Page

Want to see a larger image of Smokey?

Some Hot Shot Pictures from around the North Quabbin Area of Massachusetts

WOW What a fire!Athol, Massachusetts struck 6 alarms on May 16, 1996.